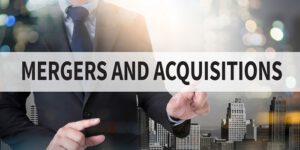 Mergers and Acquisitions (M&A) are transactions in which the ownership of companies, other business organizations, or their operating units are transferred or consolidated with other entities. As an aspect of strategic management, M&A can allow enterprises to grow or downsize, and change the nature of their business or competitive position. We are one of the Top Mergers and Acquisitions Law Firms in Delhi & Top Mergers and Acquisitions Law Firms in Haryana.
From a legal point of view, a merger is a legal consolidation of two entities into one entity, whereas an acquisition occurs when one entity takes ownership of another entity's stock, equity interests, or assets.
Lawmax, Advocates & Solicitors, provides the following services for dealing with mergers & acquisitions:
Due Diligence;
Structuring;
Scheme Drafting, Opinions, Documentation;
Negotiations
Liaison with Regulatory Authorities like Official Liquidator, Regional Director, ROC and NCLT for obtaining approvals. Professional Assistance for post merger steps. We are one of the best leading Mergers and Acquisitions.
Top Mergers and Acquisitions Law Firms in Haryana
Lawmax, Advocates & Solicitors is one of the Best Mergers and Acquisitions Law Firms in Delhi NCR & Top Mergers and Acquisitions Law Firms in Haryana We have top Mergers and Acquisitions Lawyers in Delhi NCR & top Mergers and Acquisitions Lawyers in Haryana